Modular Kitchen Designs and Layouts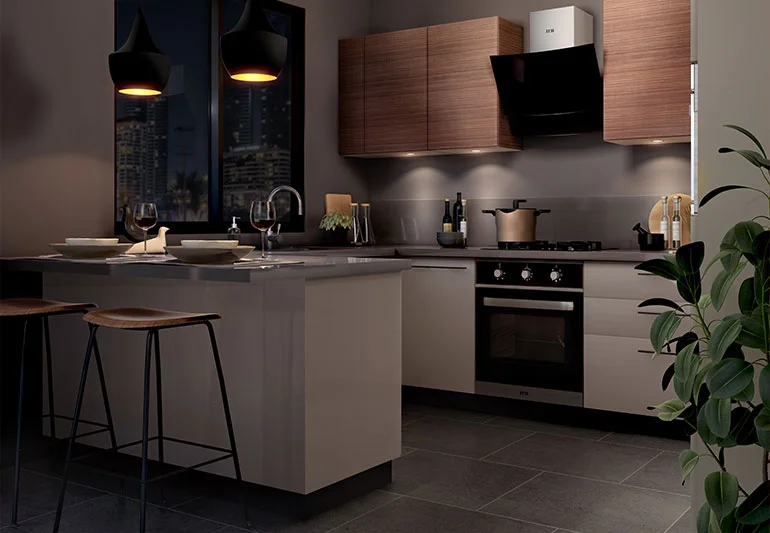 The structure of a modular kitchen can be made of MDF or ply-laminated with veneer membrane. Wood and plywood are also acceptable materials. Depending on the style and layout, you can choose granite, marble, or tile countertops. Choosing a water-proof material will minimize wear and tear. A modular kitchen can have different sizes, shapes, and storage modules to suit your needs. Once you have decided on the design, you can then add accessories and paint or stain it as you wish.
Some modular kitchen designs are more versatile than others. They allow for easy replacement of individual units if needed, and can give a uniform look to a room. Modular kitchen cabinets also offer flexibility and ease of replacement. Depending on the design and layout, you can add or remove a module and make a huge difference in the look of the room. Changing just one module in a modular kitchen can make a drastic difference in the look of the entire kitchen.
While selecting a modular kitchen layout, consider its size, function, and aesthetic appeal. Smaller kitchens can look larger than they really are by using multiple lights, which draw attention to all corners and illuminate dark corners. For those with smaller kitchens, you may want to opt for LED panel lights under upper cabinets. For a more dramatic effect, you can install pendant ceiling light fixtures. The pendant lights will accent the style of your kitchen while making it look larger.
If you live in an apartment, a modular kitchen may be the best option. These units come in prefabricated formats, making installation fast and easy. Open modular kitchens are a trend among the younger urban population. They are no longer closed off from the rest of the living room, but are viewed as places for socializing and cooking with friends. With the ability to rearrange the modular kitchen to suit your needs, you can design the kitchen of your dreams.
A modular kitchen is cheaper than a custom-made kitchen, but can be as unique as you want it to be. Different combinations of upper, lower, and full units can be grouped together to fit different styles and sizes. In addition, you can choose different cabinet finishes and counter top materials, as well as handle hardware. The possibilities are endless. If you have an architect or interior designer, they can assist you with the design and layout of your new kitchen.
Modular kitchens are often more economical than custom-made furniture. The Indian modular kitchen, for instance, is ergonomically designed with spacious shelves. The cabinets are also designed with good hygiene in mind. And because they are manufactured in bulk, the cost of a modular kitchen interior is significantly lower. You will be amazed by the high quality and low-priced modular kitchens! So don't miss out on this opportunity to improve your home with a modular kitchen!